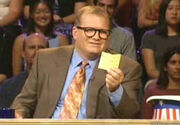 Whose Line
 is an image macro series featuring a screen capture of Drew Carey hosting the improvisational comedy television show 
Whose Line is it Anyway?
Origin
"Whose Line" originated from the show Whose Line is it Anyway, which always began with: Welcome to Whose Line is it Anyways?, where the points are made up and the score doesn't matter.
Trivia
TBA
Gallery
TBA
ARTICLE UNDER CONSTRUCTION
Ad blocker interference detected!
Wikia is a free-to-use site that makes money from advertising. We have a modified experience for viewers using ad blockers

Wikia is not accessible if you've made further modifications. Remove the custom ad blocker rule(s) and the page will load as expected.