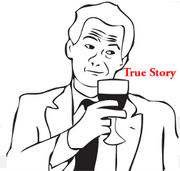 True Story is a rage comic character based on a black and white contour drawing of How I Met Your Mother character Barney Stinson (played by actor Neil Patrick Harris) smiling smugly while holding a wine glass.
Origin
Online, one of the earliest archived instances of this was posted on three separate Usenet newsgroups on November 2nd, 1995. However, the rage face was created on February 2nd, 2011, when Redditor acodemaster posted a thread titled "My submission for the 'True Story' Panel – Neil Patrick suggesting a still shot (shown below, right) of Stinson from "Do I Know You?," the first episode of "How I Met Your Mother"'s fourth season, be used for the rage face.
Trivia
While the True Story saying was around 16 years, the actual rage character has been around only 2 years.