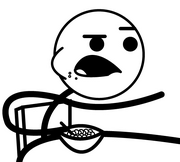 Cereal Guy is stick figure character, usually used as a multi-purpose reaction face.
Origin
Sometime in 2007, graphic designer Bob Averill posted a rage comic about a couples' long distance call, which included Cereal Guy. In 2009, a revised Cereal Guy face surfaced on 4chan, and has remained popular since. The first Cereal Guy comic can be viewed below.
Trivia
This meme's exact first appearance is unknown.
Ad blocker interference detected!
Wikia is a free-to-use site that makes money from advertising. We have a modified experience for viewers using ad blockers

Wikia is not accessible if you've made further modifications. Remove the custom ad blocker rule(s) and the page will load as expected.