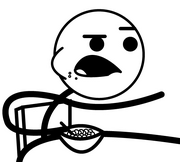 Cereal Guy is stick figure character, usually used as a multi-purpose reaction face.
Origin
Sometime in 2007, graphic designer Bob Averill posted a rage comic about a couples' long distance call, which included Cereal Guy. In 2009, a revised Cereal Guy face surfaced on 4chan, and has remained popular since. The first Cereal Guy comic can be viewed below.
Trivia
This meme's exact first appearance is unknown.