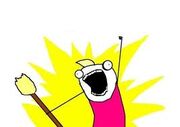 All The Things!
 is a very popular meme, used to show determination to accomplish tasks.
Origin
The blog Hyperbole and a Half published a comic titled "This is Why I'll Never be an Adult" by artist Allie Brosh on June 17th, 2010. The comic describes the author's frustration with her inability to maintain a consistent enthusiasm for her daily responsibilities.  The "All the Things!" meme was part of the comic. 
Trivia
There is no trivia! Help us add ALL THE THINGS!
All The Things?
"All The Things?" is a secondary meme of "All The Things!" It is usually expressing sadness or laziness.
Gallery
Video Gallery
Ad blocker interference detected!
Wikia is a free-to-use site that makes money from advertising. We have a modified experience for viewers using ad blockers

Wikia is not accessible if you've made further modifications. Remove the custom ad blocker rule(s) and the page will load as expected.